What is this?
akaDruid's website. News & Views, plus all the nonsense that collects after a few years on the web. One day, I'll put together all the ideas I've never had time for.
The pages
This is really not it - All new blog, same old nonsense
The forums - kinda up at the moment.
My page about cars - my favourite bit is the TVR page.
My 5 Cars and 1 Bike - what I'd buy if I won the lottery. Nice images.
The gallery - View some (mostly car) photos.
Tetris - You can play Tetris on this page.
Pac-Man - You can play Pac-Man on this page.
Frogger - You can play Frogger.
Snake - You can play... well, you get the idea by now.
SWG UK - A page about playing Star Wars Galaxies MMORPG from the UK (not really updated any more)
Kings of Chaos - A page about the web-based game (not really updated any more)
Peer-to-peer Filesharing - Information and links, how to get started. bit outdated now.
Slashdot - Scribblings about the popular geek news website.
SETI@home - Information and links for the SETI@home distributed computing project.
Nokia 7650 - Various scribblings on the Nokia 7650 phone + related bluetooth stuff.
Reading Festival 2003 - Review, and photos from the festival.
Contact me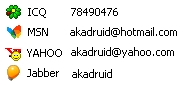 Some links
Haywards Heath Concert Brass
Brewer Road Evangelical Church

Aston Martin
The Aston Martin. Of all cars, the Aston is maybe the most desirable marque. Over the years, Aston Martin have produced more desirable cars than any other manufacturer.